Fall 2020
Fall 2020 Student Presentations
The Epic Education Foundation Presents
Epic Challenge 2021 – A Pandemic-Proof World
Student Final Presentations:
The Epic Challenge Program integrates its Innovative Conceptual Engineering Design (ICED) methodology with a problem-based learning pedagogy and a collaborative student team approach to learning and solving complex problems ininnovative ways. While most of our past challenges have been related to space, (e.g., sustaining humans on Mars), the Covid-19 pandemic of 2020 allowed us a unique opportunity. Could we use the ICED methodology to solve another real-world "Epic Challenge" which the entire world is trying to solve? We would like tothank our amazing team of high-school educators who have helped us this year and invite you all in helping us judge this year's student teams.
This course was an experiment in teaching students how to apply the art and science of engineering and in exploring techniques for enhancing creativity and innovation. We placed the emphasis of this class on the "conceptual" phase of product development where the return on investment is at a premium. In that context, it is the idea or concept which is of the utmost importance. Methods to conceive, evaluate, improve, and rapidly develop the concepts is critical! The class followed the ICED methodology which is shown below whereby they were totally immersed in the problem and taught the importance of viewing the problem and redefining it based on each student's experiences and existing knowledge.
It should be stressed that a final prototype and test demonstration is just as important at this stage as a well-defined and potentially revolutionary improvement in the form of an innovative concept with substantial research and analysis to suggest viability.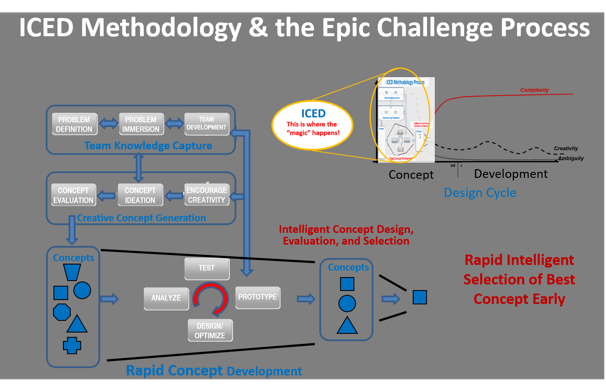 The seven themes which were stressed throughout the course are presented below. The importance of the mind as opposed to blindly following analytical results and to critically review the results of others. All students are taught how to fail intelligently; it is a requirement for successful innovative design. Continually panning out to see the "big picture" of the problem and zooming in to address the details of the design to ensure all failure mechanisms are properly understood and addressed and that design solutions are well integrated in the overall design from a "systems" perspective. Keep the problem in "the front of the back of your mind" even when relaxing and when ideas come to you during those periods. Finally, Each and every one of us is creative and team interactions and interactions with other experts in other fields will enhance our creative potential.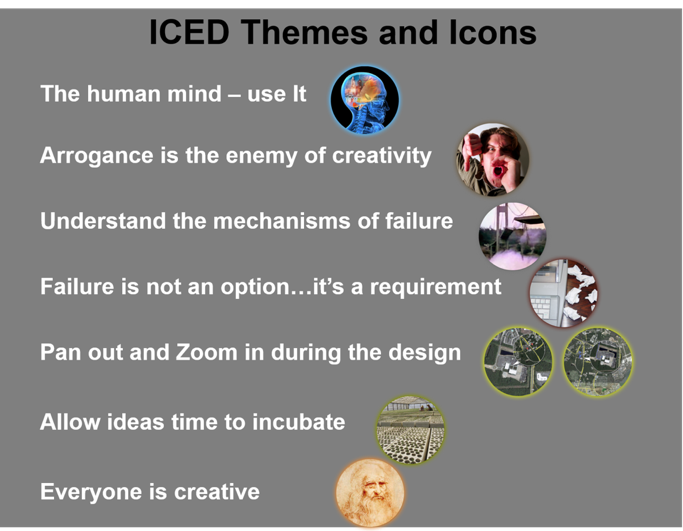 The class was instructed in the development of simple, qualitative methods for measuring the relative merit of their concepts and ways to improve them as shown below. They were shown specific examples and were asked to use the simple measures to improve ideas and concepts.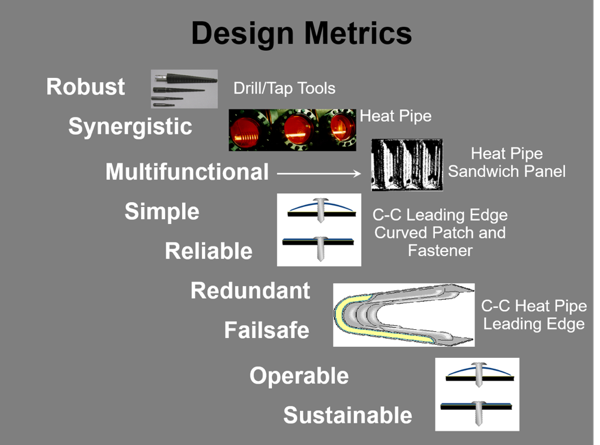 Grading of Team Presentations
Reviewers are asked to grade each Team Presentation using the criteria shown below: Problem Statement; Failure; Design Solutions/Concepts; Communication/Presentation Effectiveness; Creativity; Research, Analysis, and Testing; and Rapid Development Plan.
It is assumed that each team should have a good understanding of the problem, background, environment, and constraints. Failure to understand the problem asa team is a substantial reason to lower scores. A letter grade in each category would be appreciated.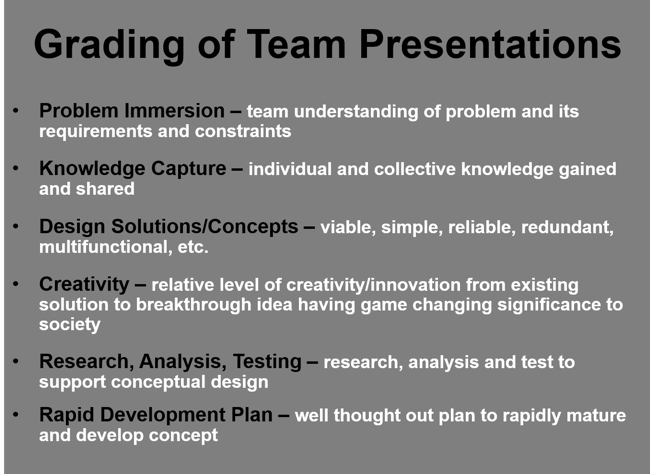 Grading can be done using the google form on each presentation's page and should adhere to the following rubric.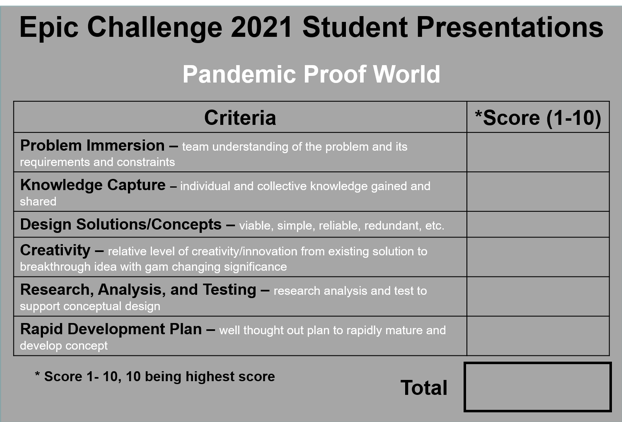 Thank you again for your support,
Charlie